Greetings to planetarians world-wide! The torch has been passed and now I will carry on the tradition of trying to shed light on the more technical aspects of our industry. Technologies used in planetariums have gone through amazing evolution over the past 20-30 years. Some advances have been adopted and brought our systems and presentations to new levels of quality and performance, and others not so much!
I've just returned from the Fulldome Festival Brno in the Czech Republic, where the latest productions and uses for our domed canvases were shared in person! Being the first live conference in over 18 months, and it was great to see, chat and interact with colleagues from all over the world again! Many unfortunately could not make it due to local regulations but we still managed to have about 100 individuals convene and watch 4 packed days of fulldome content and works in progress. Let's hope things keep improving and we can count on more such meetings soon. 
Moving on to more technical matters, it wasn't so long ago that many of us were wrestling dozens of slide and special effects projectors in order to Spice 😊 up our presentations. The first video projectors that allowed the background to be adjusted to deep black brought our special effects to life, and slewing video projectors inspired us to dream of covering the dome with moving images. 
After a few years of philosophizing over whether planetariums were becoming cinemas or not, most of us have accepted fulldome video and computer-driven visualization as the norm today. Even the word "Planetarium" has taken on a new meaning where not only astronomy and the cosmos, but any range of science topics can be presented in full immersion. And why not also a bit of entertainment too?
Years ago, almost every planetarium had a different type of sound system with the most common similarity was the traditional and authoritative "voice of God" at the zenith. 
Fulldome video has also grown in depth and resolution since its emergence in the late 90s, and now lamp based projectors have evolved to solid state sources like LED and laser so lamp changes and the constant struggle to keep the projection channels balanced is slowly fading to a memory.  
And now active display domes made entirely of LEDs are beginning to appear and with them a whole new set of challenges. The contrast barrier has been broken and it's exciting to see the first glimpses of the future of dome theaters. Prices will be inhibitive for most for the foreseeable future, as it was also when fulldome projection technologies first emerged, but I think no one can deny that we are now looking at what will eventually be the standard for all new planetariums. 
LEDs are everywhere today. We have amazing colorful LED cove lighting, LED monitors on our consoles, and LEDs now permit wonderful indirect aesthetic lighting for planetarium interiors and the surrounding spaces. LED light sources have also brought our cherished opto-mechanical planetarium projectors into the 21st century with crisp bright white light that faithfully represents the true color of the stars without all the heat generated by previous incandescent or xenon arc-lamp sources. As a result the star projectors have been reduced in size and become less intrusive to the planetarium interior. However I think we all, along with the public, still have a nostalgic feeling for the traditional giant "ant" or as the Germans say "Knochen" (bone) that used to tower above us in the center of the theater. 
In the coming issues of The Planetarian, I will look forward to answer questions and explain in more detail, how all of these technologies work, and what various aspects of their features should be considered or appreciated for use in the planetarium or other fulldome theater settings. Please feel free to send me a message with your comments or questions to smith@skyskan.com  mentioning "Technically Speaking" in the subject line, and I'll do my best to answer them along with explaining in more detail how many of the technologies we use today actually work.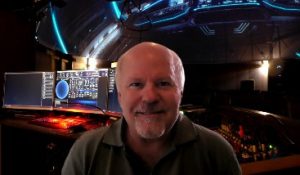 Glenn Smith
General Manager
Sky-Skan Europe
Munich Germany
smith@skyskan.com